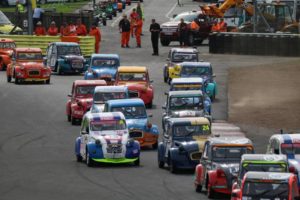 O'KEEFFE & CRISPIN VICTORIOUS IN DRAMATIC CROFT WEEKEND
Nick Crispin started from pole in the first of the weekends races and led the opening lap, with David O'Keeffe and Gary Adnitt exchanging for second, as Sandro Proietti tried to hang on too.
Into Clervaux for the second time and O'Keeffe was ahead, while down in fifth Neil Savage was losing ground as Andrew Bull, Lien Davies and Seb Jones-White all went by in their fight for fifth.
The lead trio continued to run unchanged line astern, but as Proietti continued to lose touch he became more and more ragged.
As Jones-White and Savage continued their duel, both lost out to Steve Walford for seventh, but they continued to swap and change throughout.
Back at the front Crispin was back ahead as they went into Tower for the sixth time, but a lap later both Adnitt and O'Keeffe got by on the exit and Crispin was back to third.
With Adnitt out in front, Crispin and O'Keeffe battled on and shared a number of exchanges, but Crispin was still in third as they started the last lap.
"It was a brilliant race, the aim was to get away and we did. I really didn't know where David was on the last corner though," said Adnitt.
The lead pair had exited the Hairpin for the final time virtually alongside, with just the drag to the flag. It was O'Keeffe that just gained the upperhand and secured the win by just 0.049 secs.
"We were just left to fight our own race," said O'Keeffe. "I did the work and he took the glory," Adnitt replied.
Although disappointed to be third out of the three battlers at the front, Crispin was first to show his respect for his rivals. "Brilliant race, no contact and full respect," he said.
Despite losing ground, Proietti had held onto fourth until the final lap, "I had stayed with the leaders early on, but didn't quite have the tow, as I was losing out on the straights. Then I lost the back end going through Sunny and I was off," he explained.
But fourth still went down to the wire between Davies and Bull. "I had no brakes for the last two laps, but had to have that last dive," said Bull after a final attack on Davies at the Hairpin on the last lap.
"He had a go at the last corner, but I had no brakes either and there was some contact. I had got him through the Clark Esses a few laps earlier," Davies replied after retaining fourth, despite having a cone under the front of his car.
Walford was seventh and eventually Savage held onto eighth from Jones-White, with Katy Storey getting the better of Father Mick to complete the top 10, as Chris Yates lost out.
Adnitt was on pole for race two from O'Keeffe, Crispin and Luca Proietti and these three made an immediate and decisive break.
Initially O'Keeffe had lost out in fourth, but as Adnitt, Crispin and Proietti continued in formation, he was soon able to make it a four-car train.
Davies again led the chasing pack, with Julie Walford taking Matthew Hollis for sixth on lap two.
After a fairly stable couple of laps Crispin was alongside Adnitt into Tower on lap five. O'Keeffe then took Proietti and Crispin into Sunny, as Adnitt managed to retain his advantage.
Davies was under pressure too as his hold on fourth was now a four-car fight, as Walford, Owen and Mick Storey latched on, with Hollis down to eighth.
Crispin was forced to surrender however and the four-way battle into Sunny came out as Adnitt, Crispin and Proietti, with O'Keeffe back to fourth.
It changed again a lap from home and Crispin was back in front through Sunny, with Proietti following. But the drama continued onto the final lap. "I was consistent and good through the corners, gaining and got some good points," said Crispin, after securing victory over Proietti by 0.316 seconds.
"I had been hanging back for the last lap to challenge Nick and Luca and then then David flew down the inside and hit me so hard, it pushed me across a gully into the field at Tower. I eventually got away again, but had lost first gear and I think the steering rack was damaged too," said Adnitt.
Proietti was delighted with his second place. "I worked hard with Nick throughout the whole race and it was brilliant when we both took the Lion cars around the outside at Sunny," he said.
Despite the final lap collision with Adnitt at Tower, O'Keeffe still managed to recover to take third. "No brakes, I just aimed it down the inside. I missed Gary yesterday, but certainly didn't miss him today," said O'Keeffe.
Julie Walford had been chasing Davies for fifth over the closing laps and finally made it by on the final lap. "She's a good driver and beat me fair and square said Davies. "I got him on the back straight, it was the last lap so I thought I would just go for it," Julie replied, as Adnitt's demise promoted her to fourth.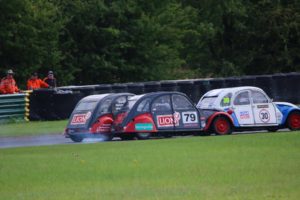 Bull and Storey followed Davies to the flag in fairly close formation. "Better and cleaner than yesterday," Bull admitted. Hollis, Yates and Martin Riman rounded off the top 10.
Croft was the final Sprint Races of the 2022 season and now it's all eyes on Snetterton for the August Bank Holiday 24hrs race and title decider.
Full timing / results: https://www.tsl-timing.com/file/?f=BARC/2022/2231272cv.pdf