When you think of "endurance racing", the first car that comes to mind may be a sports prototype, like the evocative Silk Cut Jaguars, or perhaps a Porsche 911 rocketing down the Mulsanne straight at Le Mans. You probably wouldn't think of a Citroen 2CV, unless you were mad.
However, the humble 2CV lends itself particularly well to the unique challenges posed by a 24 hour race.
Being designed in France in the 1940s, the 2CV is simple to work on, lightweight, and parts are commonly available and cheap. Body panels easily remove with just a few bolts, and doors come off by opening them fully and lifting them off the hinges. Due to obscure tax rules in the 1940s, the 2CV was fitted with low capacity engines – we use the 602cc engine from the 1970s, which is light enough to be lifted by just one person! During a 24 hour race, many things can fail or be damaged, so it's very useful to be able to change them quickly and easily, and to have a stock of spare parts without having to be a millionaire.
Apart from the mechanical side, why do we do it?:
For a lot of drivers, endurance racing is more "civilised" than ordinary 15-20 minute sprint racing – there's usually a lot more care taken to preserve the cars, avoiding damage rather than crashing into each other at the first corner of lap 1. That's not to say the racing has to be any less intense – it's quite the norm for cars to be coming into a corner 2 or 3-abreast, after slipstreaming each other down the straight! Endurance racing is also generally cheaper than sprint racing, and most drivers get more time in the driver's seat during the 24 hour than in a full season of sprint racing. That also helps with familiarisation – if you don't know how to drive the circuit or the car, you'll get plenty of practice!
Of course, the cars are fun to drive too. With their lack of horsepower (45bhp!), keeping the speed up through the corners is very important, and you'll see a lot of cars sliding through corners, trying not to slow down. Racing 2CVs have good brakes too, and with the uprated racing suspension, they handle quite well compared with similar style front-wheel drive saloon cars. 2CV racing regularly receives excellent reviews in the motoring press and is very popular with spectators and marshals alike. The racing is fiercely competitive, but it is also relatively clean and good natured.
If those reasons aren't good enough, then there's also the racing CV (or resume) to be considered. Having driven in a 24 hour race, and received a signature from the clerk of the course is something to be rightly proud of. Not many drivers can boast having competed in a 24 hour race, without entering Le Mans.
The first 2CV 24 hour race in the UK and Ireland was back in 1990. In those days, the event was held at Mondello Park, near Dublin. In 2003, the race moved to Snetterton in Norfolk. In 2014, the race moved to Anglesey, North Wales.
It's a team sport:
Unlike sprint racing, the team (or pit-crew) play an important role in endurance racing. Rather than just shouting encouragement from the pit wall, team members may be required to refuel the car, act as a fireman, change tyres, repair bodywork, help drivers get into and out of the car, clean windows, top-up oil, note down laptimes, and a whole host of other tasks considered essential to keep a car racing for 24 hours. A team will usually consist of:
3 or 4 drivers, depending on budget.
a team manager (who has to report driver changes among other tasks).
a refueller, who has to wear fire-retardant clothing.
a fireman, or fire marshal – required to be ready with a fire extinguisher at pit stops.
mechanics, who will carry out repairs, top up fluids, change engines, etc.
Numbers of mechanics vary with team size and organisation (and number of friends!), and some team members can fulfil more than one role – for example a mechanic may also be a refueller, or team manager. Another important role is that of pit-board operator – there are no pit-to-car radios allowed in the 2CV 24 hour, so the only communication between pit and car (and vice-versa) is by the use of hand signals and the pit board, which can be used to display lap times, short messages like "pit in", etc. This is an important and often overlooked role, and teams without a person on the pit wall may suddenly find their car in the pits, awaiting a driver change or repairs, taking the pit crew by surprise!
The 10 minute engine change:
With a fully-prepared and practiced pit crew, an engine change can be performed in slightly less than 10 minutes. A lot of teams bolt together the body panels at the front of the car to form a 'one-piece front end'. This allows the front bodywork to be removed with just a half-dozen nuts/bolts, permitting full access to all of the engine and gearbox within seconds. The engine is secured to the gearbox and chassis by about 6 bolts, and teams usually bring along 1 or 2 spare engines. Most teams that have won the 24 hour race did not change engines during the race, but there have been a lot of teams that changed engines and still did well. On the other end of the luck scale, some teams have been known to change engines more than 10 times (like Flat Twin Racing in 2009), and used more than 4 engines! (some borrowed from other teams)
Frugal with fuel:
The standard 2CV petrol tank only holds about 25 litres of fuel. However, due to the engine's small size and the car's low weight, the racing 2CVs can race for over 2 hours on a full tank, perhaps up to 2.5 hours depending on the driver's right foot. Refuelling is carried out in the pit lane at the 24 hour race, with a 20-litre container and a bit of help from gravity. Due to regulations limiting drivers to 3 hours in the car in any one stint, refuelling the car is often accompanied by a driver change. Drivers cannot be inside the car when the fuel is being added (for safety).
Driving a 2CV: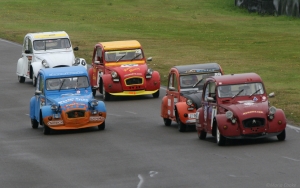 The main thing that confuses people when driving a 2CV for the first time is the gear change. Like most 'normal' cars, the gearbox uses a H-pattern shift, but unlike most cars the 2CV gearshift is mounted on the dashboard, and is "sideways" – You rotate the stick down and pull back for 1st gear, release to middle and in for 2nd, middle and out for 3rd, and finally rotate up and in for 4th. There's no 5th! Most cars still use the 'umbrella handle' gear shifter, but extended somewhat, to suit the racing seats which are mounted further back in the car.
Once the gearshifting is second nature, there are other techniques to master when racing a 2CV. One of these is 'slipstreaming' another car. In American racing (NASCAR, etc) this may be called 'drafting', and it's the process of lining up your car directly behind a competitor, in order to make both cars more aerodynamically efficient. In this way, two cars in a slipstream go faster than one. Three cars often go faster than two, etc. During qualifying, slipstreaming is particularly important, and at a windy ex-airfield circuit like Snetterton, can be worth 1-2 seconds a lap!
During the race, getting a slipstream off another car on the straights can mean you are able to ease up on the throttle, saving fuel. This can extend your time between stops, getting in valuable extra laps while competitors have to pit more often. Of course, using the extra speed gained from a slipstream is also very useful for getting past a competitor!
In a 24 hour race, most of the time you're not really 'racing' as such – not like you would in a sprint race. In fact, you'll only slow yourself down (and other competitors) if you weave or block, which doesn't really accomplish anything. Instead, working to get in a slipstream with other drivers benefits you both. This again stands the 24 hour out as a different racing discipline. If a faster car wants to get past, instead of blocking him, simply let him past and get on his (or her!) bumper, and benefit from the slipstream.
As previously mentioned, the cars can do between 2 hours and 2.5 hours between refuelling. This adds another dimension to the equation – driver fatigue. In a 4 driver team, each driver drives for over 2 hours, and has perhaps 3-4 hours break in between, depending on the rota worked out. Some drivers manage to get some sleep in between sessions, and others don't – preferring to remain awake for the entire event! This will depend on how much sleep you've had before the event, and how 'heavy' a sleeper you are. Some people find it very difficult to wake up again after just an hour or two of deep sleep, and some people can feel incredibly nauseous! Drivers also need to keep themselves well hydrated during the event, but need to empty bladders before going out on circuit for 2 hours, so you'll sometimes see a last minute dash to the loo, with the drivers hoping the car doesn't come into the pits at that exact moment!
Difference to a road 2CV:
In principle, it's not difficult or expensive to convert a 2CV into a race car. After the car is stripped out and the roll-cage added, the following modifications are performed:
Suspension is lowered and stiffened (otherwise the door handles scrape the tarmac!) and adjustable shock absorbers fitted.
The cloth roof is replaced with an aluminium sheet.
Slightly wider 135 section tyres are fitted (TOYO Tyres mandatory from 2010).
The front steering arms are turned to alter the caster angle.
A standard 2CV 6 gearbox must be fitted.
Low levels of engine tuning; compression raised by machining barrels/cylinder head.
Club camshaft must be fitted.
Alternative exhausts, air filters, carburettors and carburettor jets are also allowed.
Other "comfort" modifications such as lengthening the gear lever and fitting race seat, harness, and other safety items.
When things go wrong: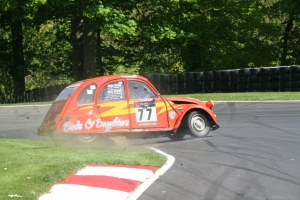 Under normal circumstances, the pit crew don't want to see the car during the race, unless it's for a fuel stop and/or driver change. Occasionally an oil top-up may be required, and perhaps one tyre may need replacing. Brake pads rarely need replacing, but it has happened. Things that can go wrong include; snapped throttle cable, broken cooling fan, carburettor linkages/jetting problems, broken wishbones/suspension mounts, king pin breakages, engine failure, oil leaks from engine or gearbox, brake problems, bodywork falling off, and fuel starvation.
When things do go wrong, if you can make it back to the pits, then your mechanics can get right to work. If however, your car has stopped out on the track, all is not lost! Provided it's not the last hour of the race, you'll get towed back to the pitlane on the back of a recovery truck – this is usually carried out under safety car conditions. A car being towed back will usually receive a 5 lap penalty. If it's the last hour of the race, you're on your own – there are no tow-backs. If you don't make it back to the pits, you won't finish the race. So in the last hour, it worth taking a toolkit in the car!
Quite often in the 24 hour race, teams will realise they don't have a spare part, or sometimes the experience to fix something that's gone wrong. Usually in these circumstances there's many teams up and down the pitlane willing to pitch in and offer spares, or even fix the problem! Such is the good nature of the 2CV teams, whole engines have been lent to other teams so they can finish the race. There have been teams turning up at the 24 hour race armed with nothing but a car, a small toolbox and a lot of good intentions, and intending to run on hope, adrenalin, cable ties and duct tape!
Who are these people? Any famous drivers?
2CV racing cars have been driven by a wide range of people with varying experience from professional drivers to complete novices, and a team from the BBC TV programme Top Gear tried their hand in a 24-hour race (including The Stig). The professional drivers include Alan Gow (Series Director of the British Touring Car Championship), Paddy Hopkirk (winner of the 1964 Monte Carlo Rally in a Mini Cooper S), Eugene O'Brian (BTCC), Ed McDonough, Phil Bennett (BTCC), and Carl Breeze (BTCC/Porsche cup). Other drivers include Mike Lindup – keyboard player from pop group Level 42, who has quite a passion for motor racing. After racing a 2CV in a one-hour endurance event, British Touring car driver Ian Flux was quoted as saying; "The Touring Cars Championship would kill for racing like this".
The numbers game – vital statistics:
3 or 4 drivers per car.
2 hours between refuelling.
20 litres of fuel go in at each pit stop.
602cc engines.
45 bhp.
80mph top speed.
24 hours.
10 minute engine changes.
1990 – first year of 24 hour race.
2003 – year that the 24 hour moved to Snetterton.
2014 – year that the 24 hour race moved to Anglesey
Want to see what it's all about?
Take a look at this page for videos of 2CV racing.